At IBS Mobile Apps, we understand there are no shortcuts to building high-quality mobile applications for your enterprise. But we also understand that you don't have time or money to waste. To give you the best possible mobile apps in the least amount of time, we've developed an agile methodology that reduces risk and increases quality of the mobile apps we create for businesses. - See more at: http://www.foreedge.com/ibsmobileapps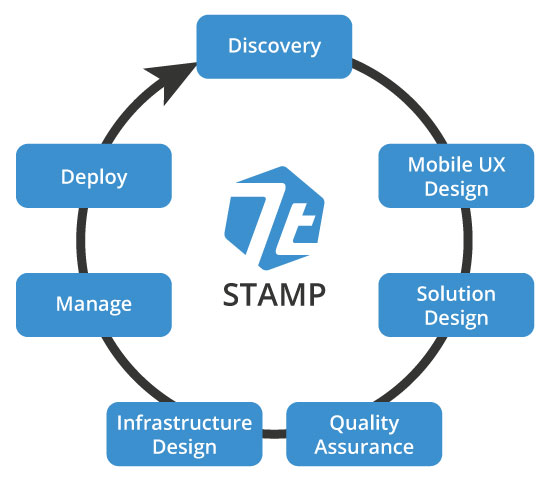 We use a disciplined approach to addressing the unique requirements of an enterprise mobile strategy. Compared to traditional software and business strategy development, enterprise mobile requires a specialized focus on the user experience, architecture, and testing. Our development process follows the latest in agile and Scrum software development best practices.
The IBS Mobile Apps Steps to Our Development Process
Discovery. Discovery is the where our process starts. You may know what you want, but we need to understand what you need. Our team works with yours to understand your strategy, goals, and capabilities to create the best solution. Depending on the complexity of your project, we have various discovery tasks and will use our experienced business analysts and user experience experts to document the application to be designed.
Mobile UX Design. The most important task for mobile apps is the user interface design. You need an intuitive, friendly, and beautiful app that takes advantage of what makes mobile a unique experience. Mobile user interface design at IBS Mobile Apps is a combination of business, technology, user experience, and creative. Our experts in each of these areas work together to create a mobile experience that users love.
Solution Design. IBS Mobile Apps does not just build apps. We build solutions that transform your company into a mobile enterprise. Our solution design methodology addresses process, data, analytics, support, maintenance, and the infrastructure. By taking a more holistic solutions approach, we deliver both a quality experience to users and fulfill the goals of your business and meet your operational needs.
Quality Assurance. Mobile users are very sensitive to quality. Making sure you get five stars on reviews is just part of the job. If apps crash, you could lose reputation and money. Our quality procedures are designed to ensure your app works as designed and has the performance you require. Because of the fragmented device market, we rely on a large number of simulation and live device tests to make sure your app works for all users, including those with old iPhones or bottom-of-the-market Android devices.
Infrastructure Design. Our develop process takes into account the unique infrastructure requirements for enterprise mobile. Your databases, documents, media, middleware, enterprise service bus and more need to be seamlessly integrated with your application. Deployments are a critical part of the process where we stage and test the systems, their integrations and their scalability. We also have the ability to create cloud-based systems that help reduce the impact of your existing infrastructure.
Manage. Apps are not getting simpler, they are getting more complex. Users want easy-to-use apps, but you know there's complex infrastructure doing the hard work to make the user experience positive. Long-term management of the infrastructure, user support, and maintaining integrations is an important set of tasks. Backups, disaster recovery, and update procedures are also covered as part of your management solution. We also set up various levels of visibility to your support team, customers, partners, and to executives.
Device Deployment and User Management. The last part of our process is deployment of the apps on devices. We support several solutions that allow us to create large beta tests, enterprise deployments, enterprise app stores, and traditional app stores. Depending on your application, we can also install from the web or through mobile device management tools.